News 2016
Quin Friary excavation media coverage - 30th September
The volunteer excavation at Quin Friary is nearly at an end. This community-based project has been a great success and we'll upload some details of what was uncovered next week
In the mean time you can read all about the project in the Clare Champion - we made the front cover two weeks in a row! Also a TG4 camera crew came out to film the site so watch out for Nuacht tonight, Friday 30th September
Thanks so much to all our wonderful volunteers. We hope you enjoyed it as much as we did.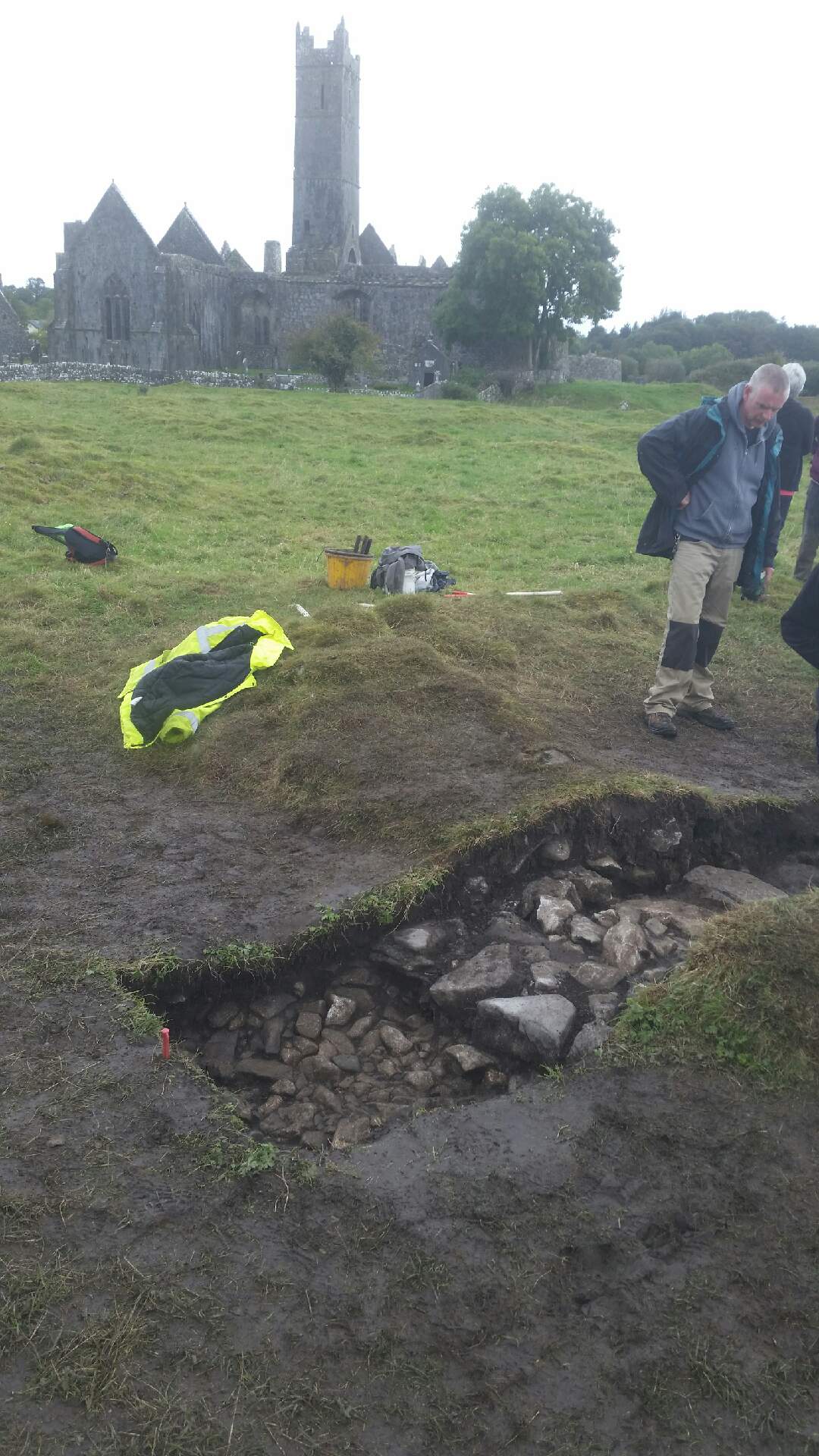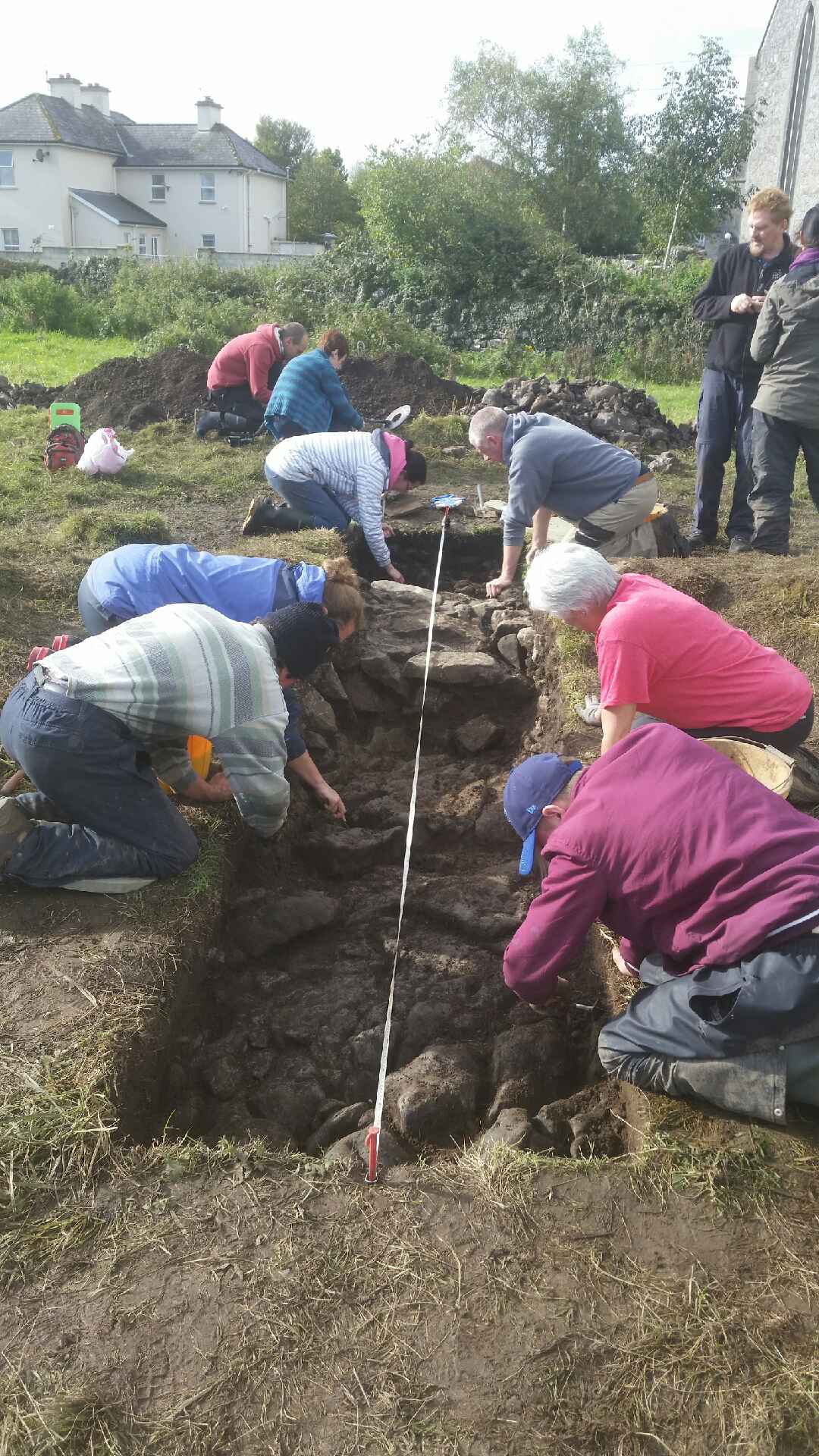 Quin Friary Excavation - call for volunteers - 24th-30th September
We're delighted to announce an upcoming excavation at the iconic Quin Friary. This is a community-based project that will provide an opportunity for anyone with an interest to participate in an archaeological excavation
Quin Friary is a well-known visitor destination in Co. Clare. Less well-known perhaps are the earthworks that are located in the fields next to the medieval friary. These features present as mostly positive and sometimes negative 'humps and bumps'. These earthworks seem to represent the remnants of rectangular structures of a variety of sizes, set within a network of roadways and land divisions. The earthworks are undated but may represent a Deserted Medieval Village. There are few deserted village earthworks in Ireland and even fewer have been archaeologically examined.
With the consent of the statutory authorities, we have devised a project to investigate the Quin earthworks by the excavation of two trenches. It may be possible to find evidence of structures associated with the friary, locate artefacts and features associated with military occupation, identify burning and destruction from the medieval to post-medieval periods or provide evidence of vernacular medieval or post-medieval dwellings.
If you are interested in taking part, or know someone who might be, then further details are available for download. Please tell your friends. We look forward to seeing you there.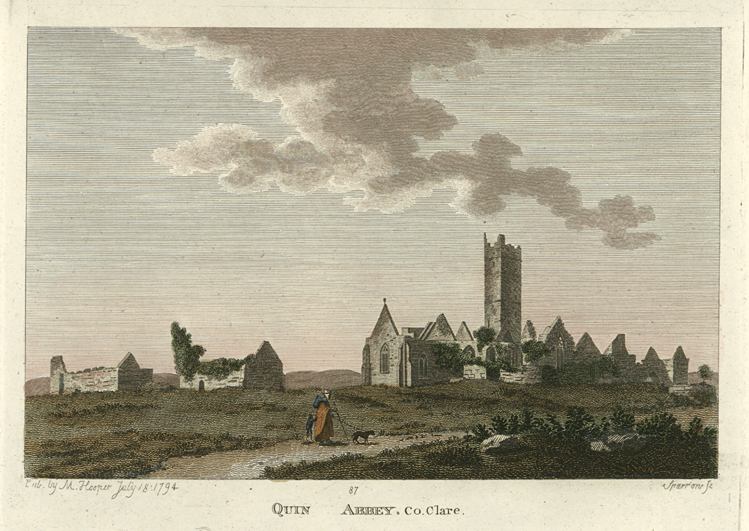 Heritage Week 2016 - 20th - 28th August
Once again Heritage Week has been busy for TVAS and all our archaeological colleagues.
TVAS are partners in the INSTAR project 'Seeing beyond the site', investigating the later prehistory of the south-east, and a very successful open day was held at Cork Public Museum on Saturday 20th August 2016. Videos interviews recorded on the day can be viewed here
Workshops entitled 'Being an archaeologist' were held in the Clare County Museum in Ennis on Friday 26th August 2016. These provided interested members of the public the opportunity to explore what life as an archaeologist is really like.
The Transport Infrastructure Ireland (TII) publication 'Above and Below: the archaeology of roads and light rail' was launched on Thursday 25th August 2016 in Dublin. Graham Hull's paper on the results of the M11 Gorey to Enniscorthy excavations is included. This is the latest in a series of archaeological publications relating to road and rail schemes produced by the NRA/TII, these books can be purchased from Wordwell
Dangan Uí Bhigín - County Clare's second most important castle
Following the community archaeology project at Dangan at Easter, Graham has completed the report on the trenches excavated within the castle complex.
Dangan Uí Bhigín castle (CL035-085) is located between Tulla and Quin in east County Clare. The castle is an extensive complex that includes the remains of a keep, a banquet hall and a round turret enclosed by a high curtain wall. The castle contains few of the innovations found in the many 15th century tower houses in County Clare which may indicate that the castle is older (possibly mid 14th century) and may have been an attempt by the builders to copy the Norman fortresses of Quin and Clarecastle.
In 2015 a radiocarbon date (UBA-29291, 623±29 BP, 2 sigma AD 1291-1399) was obtained from a hazel twig recovered from the vaulted ceiling within the castle keep. This date is supportive of the notion that Dangan Uí Bhigín does indeed date from the 14th century and may be one of the oldest such structures in the county.
At Easter 2016 a team of volunteers excavated two small arcaheological test trenches. Trench 1 targeted the centre of the banquet hall. The trench established that the hall had an earthen floor over limestone bedrock and had likely been occupied into the 18th or 19th centuries. Trench 2 was located at the west of the banquet hall and found a previously unknown substantial stone-built structure. On the cobbled floor of this building was a large quantity of broken wine bottles that date to the earlier 18th century.
Further radiocarbon dating in 2016 produced a determination focused between the earlier 17th to early 19th century (UBA-31481, 216±45 BP, 2 sigma AD 1524-1950). A second date from the castle itself produced a confirming 14th century determination (UBA-31482, 615±30 BP, 2 sigma AD 1294-1401).
Download the report on the test excavation here
This research project is being undertaken in collaboration with historians Risteard Ua Cróinín, Martin Breen, Luke McInerney and Brian O'Dálaigh and with the generous support of Joe Kinahan. We hope to return to Dangan in the future to continue our research - watch this space!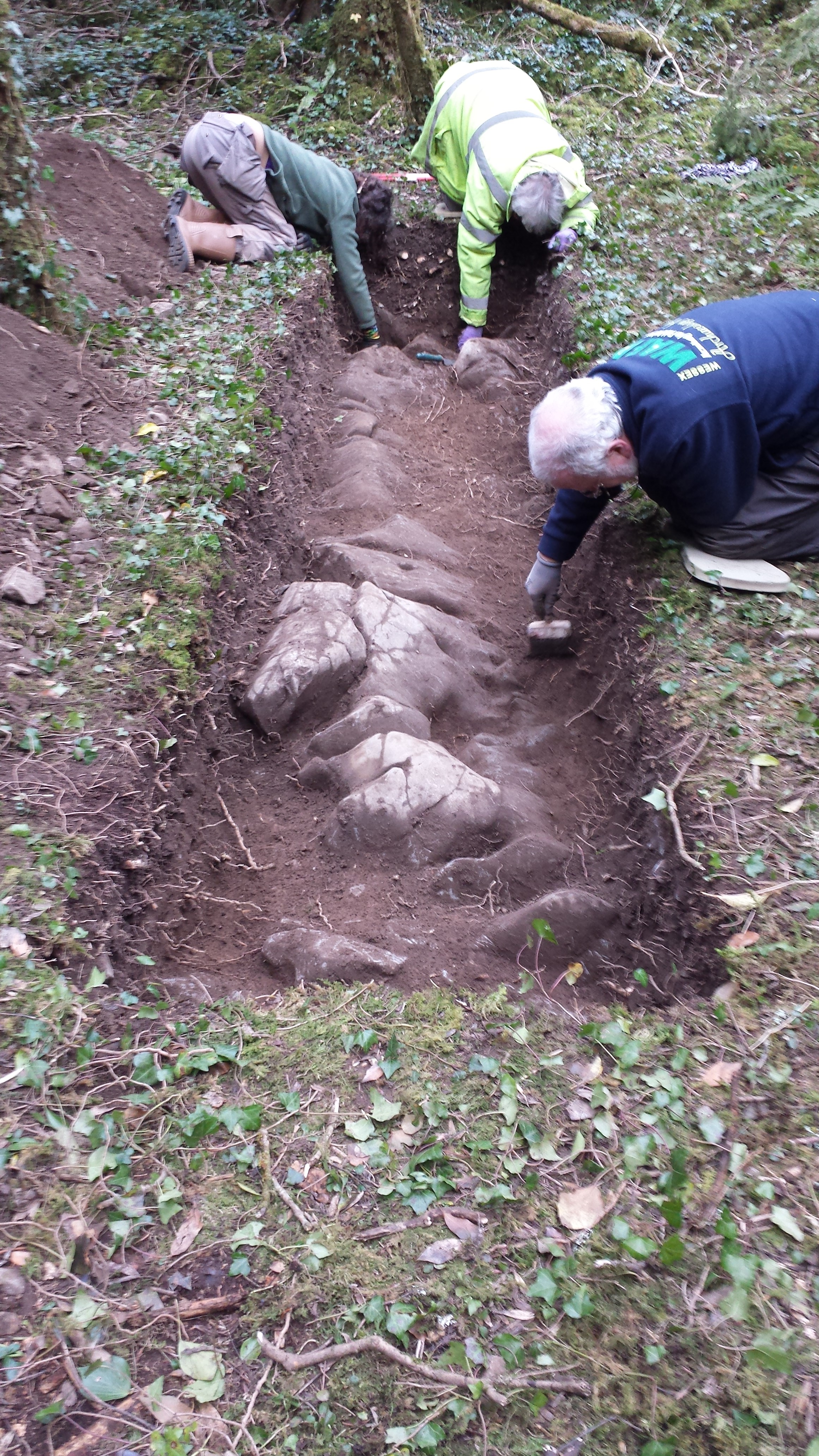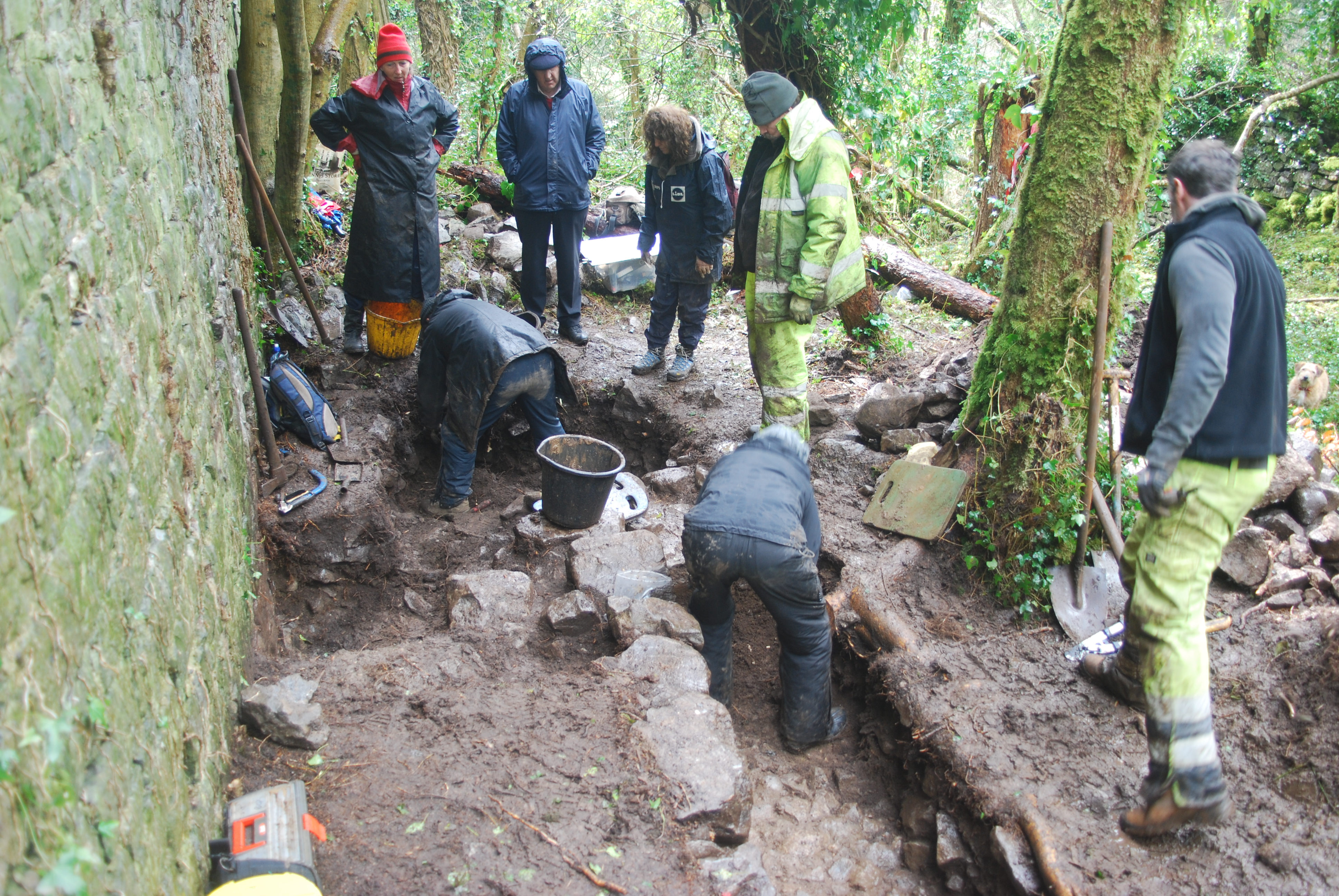 5th Annual Doolin Heritage Weekend - 18th & 19th June
Once again the Doolin Heritage Weekend, held at Hotel Doolin, provided a bumper event, packed with information and entertainment.
Saturday 18th saw a series of lectures covering archaeology and cultural heritage from near and far, with subjects including the coastal archaeology of north-east Ulster as well as new discoveries at Dangan, Quin and Roughan Hill.
Sunday 19th provided an opportunity to participate in a walking tour of Doolin itself, starting at Killilagh Church. Despite the miserable weather a dedicated group were led by Joe McCooey around the church ruins. In the afternoon a Viking and medieval encampment was recreated by the White Horse re-enactment group, inside the hotel rather than in the field as the rain continued to fall! Viking warfare was demonstrated and there was a display of craft and cookery techniques, followed by music and a BBQ.
All proceeds from the event go towards the Killilagh Church restoration project and other Doolin Heritage initiatives.
There was a strong TVAS contingent with Kate, Graham and Joe all speaking, and we were delighted to see some other familiar faces. We look forward to another successful event next year. See you there.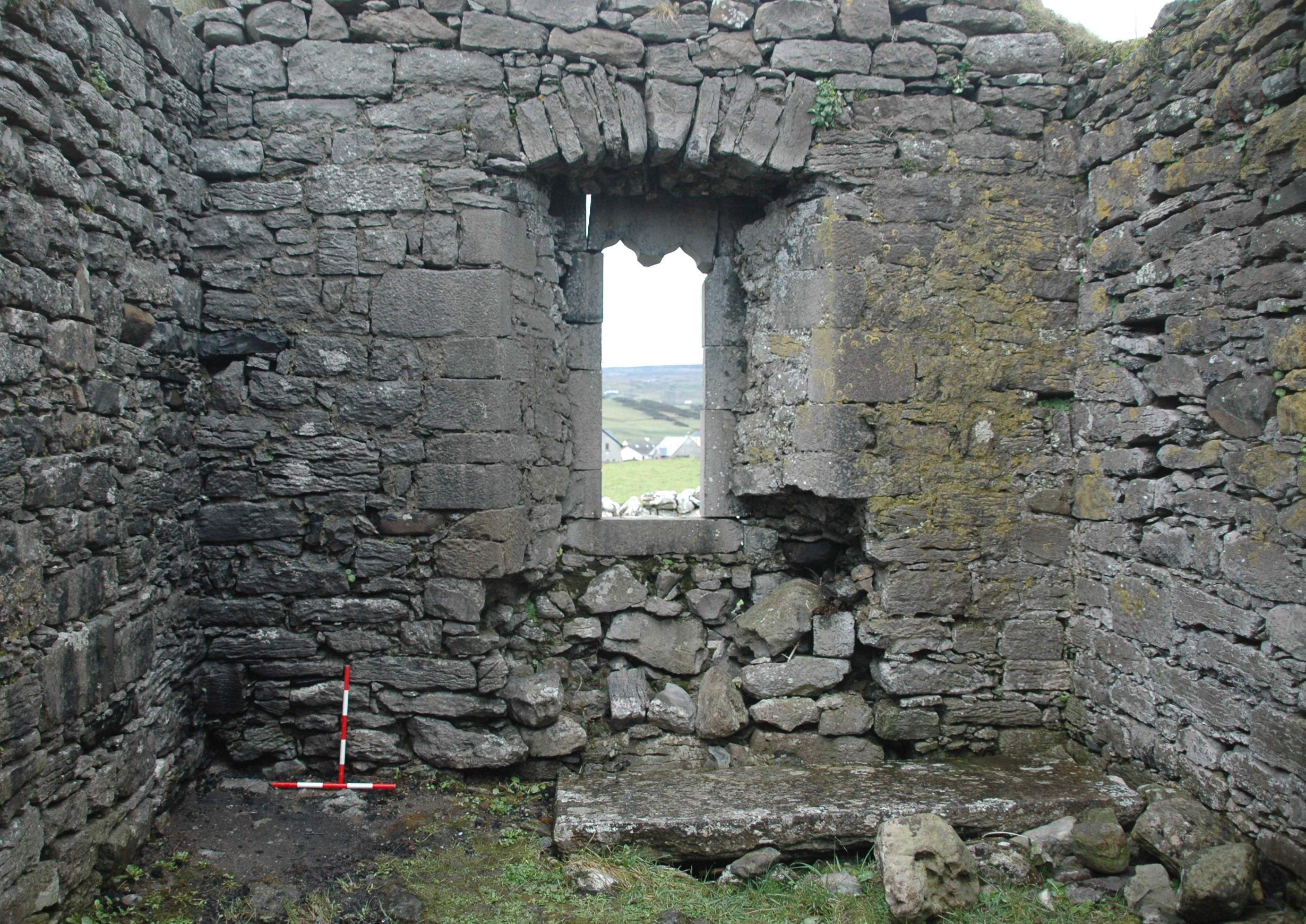 The 2016 Summer prehistoric archaeology lecture series, Corofin Co. Clare
Brought to you by The Irish Fieldschool of Prehistoric Archaeology and the Department of Archaeology, NUI Galway
Just a reminder about this excellent programme of informative lectures held in Corofin each Tuesday evening throughout the summer
New TVAS office - June 2016
Contratulations to TVAS UK who have recently opened a new office in Staffordshire
The address is 2B, Stanton Road, Meir, Stoke-on-Trent, Staffordshire, ST3 6DD, UK
0044 1782 595648
The streets of Ennis - May 2016
TVAS have been undertaking archaeological monitoring during refurbishment of sewers and pavements around the new Farmer's Market building in Garraunakilla, Ennis.
Earlier street surfaces, mostly cobbles and gravel, survive beneath the tarmac and concrete in a few places. These are being photographed and carefully preserved beneath layers of sand and gravel to protect them for future generations.