News 2008
One-day Conference on Burren Archaeology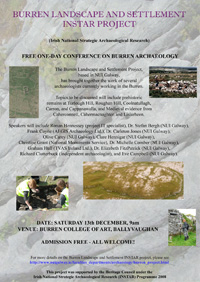 A seminar detailing the findings of the Burren INSTAR Project is to be given at the Burren College of Art Ballyvaghan, Co. Clare on Saturday 13th December 2008.


Pottery seminar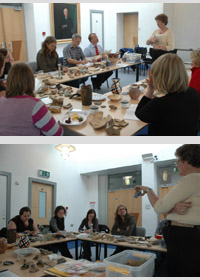 2nd October 2008
TVAS staff recently attended a very interesting seminar led by Clare McCutcheon, Ceramic Analyst, on medieval and post-medieval ceramics found in Ireland. Also in attendance were Christy Cunniffe, Galway Monuments Advisor and Simon Large, Clare County Archaeologist. The seminar was held at the Clare Museum, Ennis and the tables were littered with pottery sherds of various dates and items from Clare's personal collection. Clare led the group through the types of pottery found in Irish archaeological sites from the 5th century onwards and taught everyone how to identify the different fabrics and vessel forms. The hints and tips she provided, for example how to distinguish between Irish, English and French medieval ceramics, will prove useful in archaeological fieldwork and the background information she gave on the politics and economics of the pottery industry were fascinating in their own right.

Attendees were also encouraged to bring in items they had at home for identification. Kim O'Shea brought in her great-grandmother's mixing bowl from Virginia, USA for Clare to look at and was delighted to learn that the bowl is tin-glazed earthenware. The small, tight cracking in the glaze shows that the bowl was in daily use, and the inside of the bowl has 'stacking' marks, meaning that when the bowl was fired in a kiln another ceramic piece was stacked inside to save space. Clare commented, 'if archaeology is to engage the general public, it is pieces like Kim's bowl that helps to establish a connection between the study of the past and people's everyday lives '.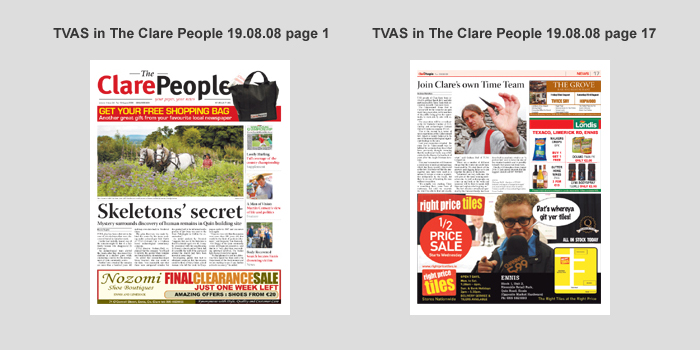 Heritage Week 2008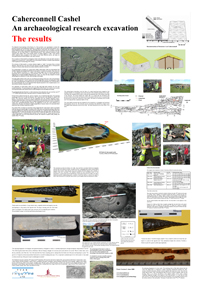 2nd season of archaeological excavation at Caherconnell Cashel: August 24th to 31st
TVAS (Ireland) Ltd are organising a second season of excavations at one of County Clare's most important monuments. Last year, with the help of volunteers and specialists from the National University of Ireland, Galway and Queen's University Belfast, we excavated a small trench within the cashel that demonstrated that the fort was used into the medieval period.
See
www.burrenforts.ie
for further information.
This year we will be extending our investigations at the high-status settlement site to what appears to be an underground passage - known as souterrain.
The excavation will be directed by Graham Hull of TVAS, a County Clare archaeological consultancy and will be assisted by Dr Michelle Comber of NUI Galway.
For further information about this excavation please e-mail Graham Hull (tvas@eircom.net) or John Davoren (john@burrenforts.ie)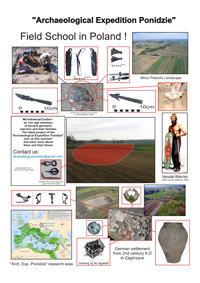 "Archaeological Expedition Ponidzie"
Field School in Poland
Michalowice/Ciuslice - an iron age cemetery of ancient germanic warriors and their families.
The latest project of the "Archaeological Expedition Ponidzie". Join this summer (August 2008) and learn more about them and their times.
Contact: ekspedycja.ponidzie@gmail.com


'Tasting Irish Heritage'
Monday 7th July 2008 - Slow Food Clare recently hosted an evening of archaeology and a six-course meal featuring locally-sourced produce at Caherconnell Stone Fort & Visitor Centre. Graham Hull, TVAS Ireland, kindly gave an interesting lecture outlining the results of last year's excavations within Caherconnell ringfort. He also led the large group of attendents around the ringfort pointing out features & answering several questions from the crowd. Following the lecture, over 70 attendees sat down for a six-course meal, served 'family style' that showcased in-season foods that were all sourced directly from local Clare Producers. Kim O'Shea, TVAS Ireland & Slow Food Clare, said 'This innovative event really caught the imagination of many people, and it was great to hear that those who were not sure if they would attend were truly swayed by the archaeology lecture that preceded the dinner'.






29 June - 6 July WAC (Sixth World Archaeological Congress, Dublin, Ireland)

Staff from TVAS Ireland attended WAC - World Archaeology Conference - in Dublin in early July. They made the most of the event by splitting up to attend several lectures during the week and have a wealth of information to add to the already bulging reference shelves. TVAS staff created two posters for display at WAC, titled 'Annaholty Bog: Marginal Landscape or Major Routeway' and 'Foundations of Bronze Age Settlement in the Kilmastulla Valley'. Both posters were well-received and initiated good discussions with other Archaeologists. Margaret McNamara, TVAS Ireland, said 'the Conference was a real oppurtunity to hear about the ways in which Archaeologists work in the other parts of the world. This is something that escapes your mind when involved in the day-to-day work here in Ireland, and it was really interesting to hear that in Japan Archaeologists find themselves delving into the same issues that we have here in Ireland'.